Mezzanine Office Fit Outs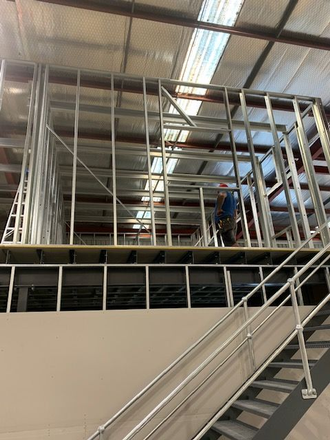 With a team that can measure design and quote in one you will have your new mezzanine office build complted in no time
Are your office facilities looking tired and In need of improvements? Or maybe your business is on the move to a new premises and your commercial interiors need fitting out before you move in? Either way, we can help, creating space is what we do.
From design through to implementation, we provide you with the complete solution. This includes all aspects of your commercial interior project, from the site survey through to all plumbing, electrical, partitioning and flooring requirements.
Our team of experienced expert designers, project managers and installers will guide you through each stage of your project and ensure that you are happy with your new commercial interiors.
We know what it takes to ensure your business isn't affected whilst we work. We create a plan of works that reduces downtime in your premises as much as possible. However if we have to work through the night or on weekends, we will.
We have the experience of working with businesses both big and small to improve their commercial interiors. So whatever your needs, we have the know how.